About Absecon Mills, Inc.
Durability, industry leading product development and appealing design make Absecon Mills one of the premier manufacturers in contract seating fabrics in the U.S.A.
The company headquarters are located in Cologne, New Jersey, the site of our fully integrated manufacturing facility. Absecon sells its products to manufacturers of finished furniture products, which are suitable for commercial use in industries such as healthcare, hospitality, churches, schools and universities, theaters, transportation, and all public seating areas. With a global presence, you will find Absecon fabrics in Mexico, Australia, Asia-Pacific, Europe, Canada and the Middle East.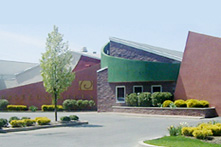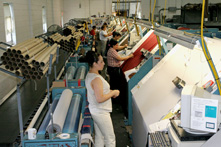 Our flexible manufacturing process utilizes both dobby and jacquard looms to manufacture textiles with different levels of pattern intricacy. This combination allows us to offer thousands of different color/pattern combinations. With a history of over 20 years, Absecon has established a well-earned reputation for quality, outstanding customer service, and industry leading product development.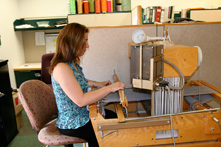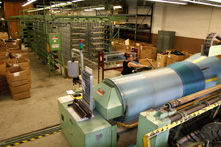 Absecon has developed an intense focus on performance fabrics and cutting edge technology in fabric finishing. Our extensive offering of fabric treatments (including Crypton®) and inerently performance-based fabrics have long set the industry standard for cleanability and wearability. All Absecon fabrics undergo rigorous inspection processes and extensive testing, and our reputation for standing behind our products is unmatched in the industry.

Absecon Mills is committed to being a responsible corporate entity and we are continually striving to find ways to help preserve our environment, increase energy efficiency and reduce waste. We believe this is more than a goal—it is a necessity and a key obligation of every responsible manufacturing company. Our company-wide focus on Lean Manufacturing supports and promotes this philosophy. Consistently high standards of quality, service and industry leading design and development have earned Absecon Mills its place in the contract fabric market.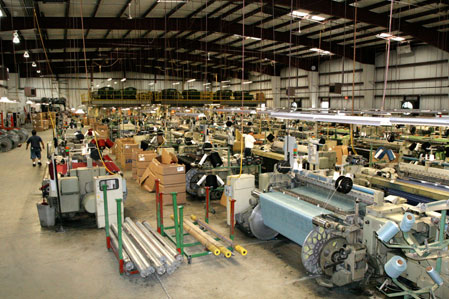 About Douglass Industries, Inc.
Founded in 1954 by Howard and Naomi Taylor, Douglass has been supplying high design, quality fabrics to the industry for over fifty years. Located in Egg Harbor City, New Jersey, decades of devotion to textile manufacturing have earned Douglass a reputation for discriminating style, quick delivery, and excellent customer service. Our extensive sales force, both domestically and abroad, ensure there is someone available to address your special fabric needs.


Douglass provides contract seating fabrics, panel fabrics, faux vinyls / urethanes, and foam to a broad spectrum of markets including contract purchasers, interior designers, furniture manufacturers, architects, and specifiers along with federal and state governments.
Branding of Douglass Product
As a helpful tool to aid in the selection of appropriate upholstery textiles, we have categorized our products into the following brands:
   Suite and Low: enhanced upholstery value
Price sensitive upholstery fabric without sacrificing contract durability or aesthetic appeal. Where value counts, visual impact is sustained, and good performance is a plus. Click to view current Suite and Low patterns.
   Accommodations: aesthetic design solutions
Just the right upholstery looks for guest rooms, suites, and public spaces. Striking solids, innovative patterns, and chic coordinates are soft to the touch and ready for immediate shipment. Our offerings for Accommodations available here.
   Palisades: when performance is paramount
Upholstery fabrics designed and woven with performance in mind. Lifetime product protection and smart technology available in a myriad of specification and design options from Crypton®, Nano-Tex™, Defend™ or InCase™ stain resistant finishes. Palisades performance patterns.
   Environs: alternative upholstery/contract applications
Vinyls, faux leathers, urethanes, and unique upholstery products feature alternative solutions for any contract environment. Harmonizing pattern and texture, Environs selections promise remarkable style and endurance.
   Evergreen: sustainable textiles
Contract upholstery fabrics woven in an environmentally friendly mill utilizing recycled, recyclable, or sustainable fibers and yarns. Designed, manufactured, and distributed with the eco-state of our world in mind. Patterns in our expanding Evergreen brand.